"SAKURA!!!!!!" Sakura heard someone yell from down stairs.
She didn't move. God after all the work she had done last night, that evil bitch could wait.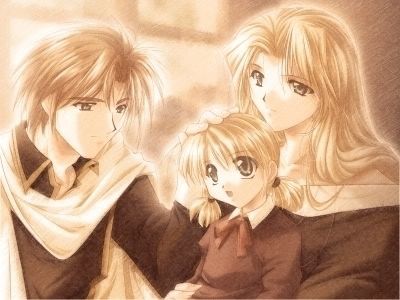 (sakura at three.)
shesmiled at the picture.
"Morning mom and dad."
Herparents had whenshe was ten. Andsakura was left with the evil bitch.her mothers sister.
Tsunade.
"SAKURA!!!!!!!"
Speaking of evil bitches.her's was calling.
she threw onher uniform and ran down stairs.
She was glaring at me:


"Were have you been, little brat?!" She yelled "You need to sweep-"
"Sorry Tsunade-sama school calls." Sakura interupted
She glared atsakura "You know if I was older-"
"Sorry but aren't you like past fifty?" I said back
She glared at me.
"Stupid, bitch." Said a prissy voice behind sakura.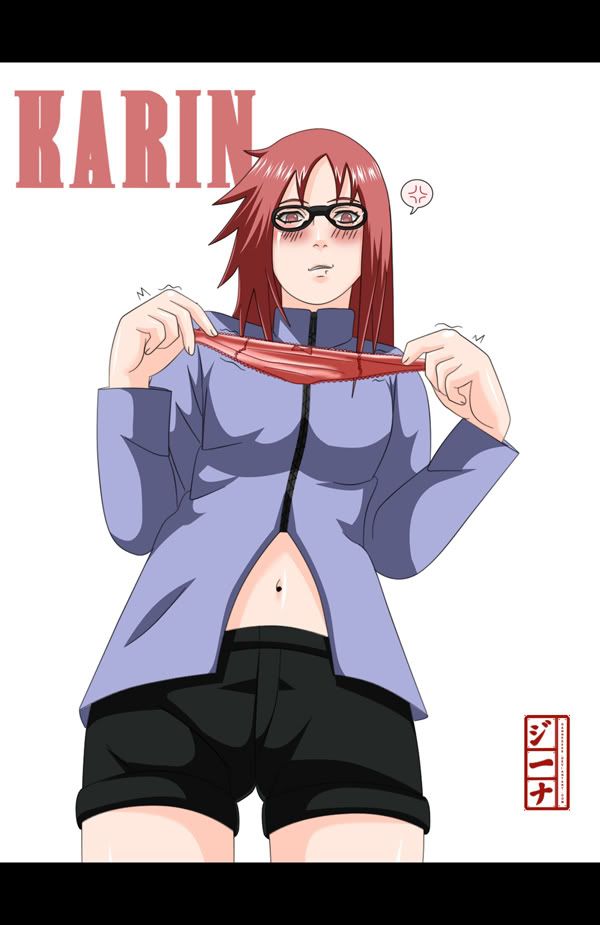 This is Karin. Lady tsunade's daughter. It amazeseveryone how she hasn't gotten pregnate yet.
Tsunade was about to rip my head off when there was a knock on the door,
She primed herself and opened it. But then growled
"You here already?"
I looked around her,sakura's best friends naruto, ino, shikamaru, tenten, neji, hinata, lee, and kiba and Temari.
stood at the front door.
"Makki?" Came a gruff voice.
"Oh god no..." Naruto groaned.
It was sasuke uchiha. The prince and most popular boy at the Ninja Academy.
Naruto , Sasuke, and I had once been best friends but then he abandoned us for some odd reason.
Karinpushed sakuraout of the way "Sasuke, Baby!"
Tsunade sprang up happy again. "Oh! Sasuke darling."
He stepped forth. Naruto came in and helped sakuraup.
"Come on, Sakura-chan, we better get out of here before he can cause more damage."
He glared at Naruto. "Dobe."
"Was I talking to you king of the jerks?"
Sasuke glared at him. Sakura avoided his glance.
We left. Inosakura's best girlfriend clinging to one arm "I can't belive him. Back in the baby academy you three were the best of friends."
"Dosen't matter anymore. He left and thats that."
"Anyway, are we doing some training to day?"
"Yeah! Sparing!" Kiba smiled arm around ino.
Hinata stood closley to naruto smiling. He blushed when she accidenlt touched his hand.
"Ooops sorry hina-chan." He looked away.
"It's sad obvious isn't it?" Tenten smiled next to sakura.
Before accidently touching neji's hand "Ohhh! sorry!" She turned red.
"Isn't it?" Temari smiled arm in arm with Shikamaru.
Tenten glared at her. "Shut it."
Neji smiled at tenten "I claim tenten. She's always a challenge."
Sakura giggled. It was really obvious tenten would try her best, she had this theroy if she could
beat neji he would love her. Finally. What she didn't know was that neji already loved her he was
just a little more secretive about it than she knew.
They got to school and sakura changed her sparing clothes:


(oh yeah. she's that cool.)
They all changed and sat in the bleaches above the fighting stadium.
Their sparing teacher gai sensai stood in the ring.
"Okay kids today we will have our test! Whoeve beats the crap out of the other best get the best grade!"
They cheered.
"And I'm picking pairs."
"Awww!!!" Everyone yelled.
"Shut it!" He yelled and took out a piece of paper "Okay first pairing,
Haruno, Sakura!"
Everyone but the populars cheered. She stood up and jumped over a bar to
flip and land derectly on the on the ground in front of gai-sensai.
"And.....Uchiha, Sasuke!"
Sakura gasped. No way...
Her group cheered her on "Go sakura! Beat the shit out of him!"
Ino and Narutogave her a horrified look.They knew the reason she was scared.
Sasuke jumped into the ring, gai-sensai got out of it. "Okay...ready....set..."
"Still scared sakura-san?" He smiled at her mockingly.
Sakura's fear melted away "Not a chance, uchiha-san."
"GO!"
Sakura went in for the first move. She moved in for a double kick.
Sasuke blocks "Looks like your still weak."
He swung at her with chidori ahe flipped back.
"No I'M NOT!"
He caughter he in her next attack He whispered into her ear "Looks to me like you
still haven't gotten over our last talk sakura-chan. Huh?"
She growled "Really?"
She kneed him...in his special place. (GO SAKURA!!!!!)
He pulled out his swoard but sakura took her chance:


(Ignore naruto. But this is everyones expression in the stands.)
Sakura hit the wall.
"How the hell did she get that strong?" He mummered to himself.
"Game. set. match." Sakura smiled to herself pulling on her glove.
"Haruno wins!" Gai-sensai smiled.
"WHAT THE HEEEELLL???"Karin yelled from the stands.
Sakura smiled "Thanks for the fun sasu-ke." She winks.
He rubbs his jaw smiling. "Till next time."
Sakura jumps up to hug her friends "Yay!!!" They yell.
Ino and Naruto exchanged worriedglances.

"Arrrrgh!!!!! Stupid book!" Sakura growled.
She was at her after school job working at the library. No one was ever there and she was deffantly
safe fromKarin and Tsunade here. Thats why she loved it.
Except for when she just couldn't get the books on the top shelves.
She was struggling with a copy of Harry potter which shouldn't be on the top shelf
of non-fictionramen themedbooks. She suspected someone was pranking her.
"Need help?" Someone asked behind her.
She looked down, sasuke uchiha was standing next to the lader.
"Sasuke-san?" She blinked "What the hec are you doing here?"
"Avoiding people..you?"
"I work here, and yeah that too."
"Dido."
"You work here?!" She didn't see how she had never seen him here before.
"I just started. Need help?"
"Well, as I can seem to escprt mr.potter down from this high shelf due to my
case of extreme shortness, yes I would like you help, thanks."
She started to get down when she missed a step and fell off the later. "Shoot!"
But instead of the cold hard floor six feet down she was greeated by the warm arms
of sasuke. Who caught her.
"Oh thanks, sasuke-kun-" She blushed.
"Anytime." He set her down.
He retrieved the book for her.
"Uh...thanks....gotta go! Bye!"
And she began to get away when he said "But the librarian told me that you would help me on my first day."
"Shit.." she whispered. and then turned "Okay, follow me."
Through the rest of the day the worked together and it somehow reminded her of old times
she even laughed when he joked around about naruto snorting ramen out of his nose
when they were nine.
Then as she locked up the library for the night she shivered in the cold september air.
He pulled off his jacket and put it on her "Here."
"Oh thank you." She blushed. It was a big roomy jacket, and warm.
"Just like old times, huh?" he smiled as he walked her home so he could see her sister.
"Yeah....before you know."
He looked grim all of a sudden "Yeah, that."
That, was the night he left. the year after her parents died sasuke had started to grow more
distant and angry and then he came to sakura in the middle of the night
and told her that he was leaving. She had cried and when he yelled at her calling her weak
she had said "Yes I am weak! Without you I will always be weak!" he had pushed her
away and then she had cried into the night "I love you more than anything."
and he had turned to her and said "Your annoying."
That had been her breaking point "I hate you sasuke uchiha!"
She haden't seen for five years until they were sixteen and he finally came back to
school there junior year. It was senior year now. But sakura still hurt.
"Sasuke-kun, am I still annoying?"
He looked at her speachless "I-I..."
"Sasuke!!!!" She heard someone call and there wasKarin who ran up to him
and threw her arms around him "Sasuke baby! I missed you! Those three hours were tourcher!"
Karinlooked at her running "Whats her problem."
"Karin we need to talk." Sasuke glared at her.
"W-what?" She gasped
"We'rebreaking up."

YAY!!!! GO SASUKE!!!!!