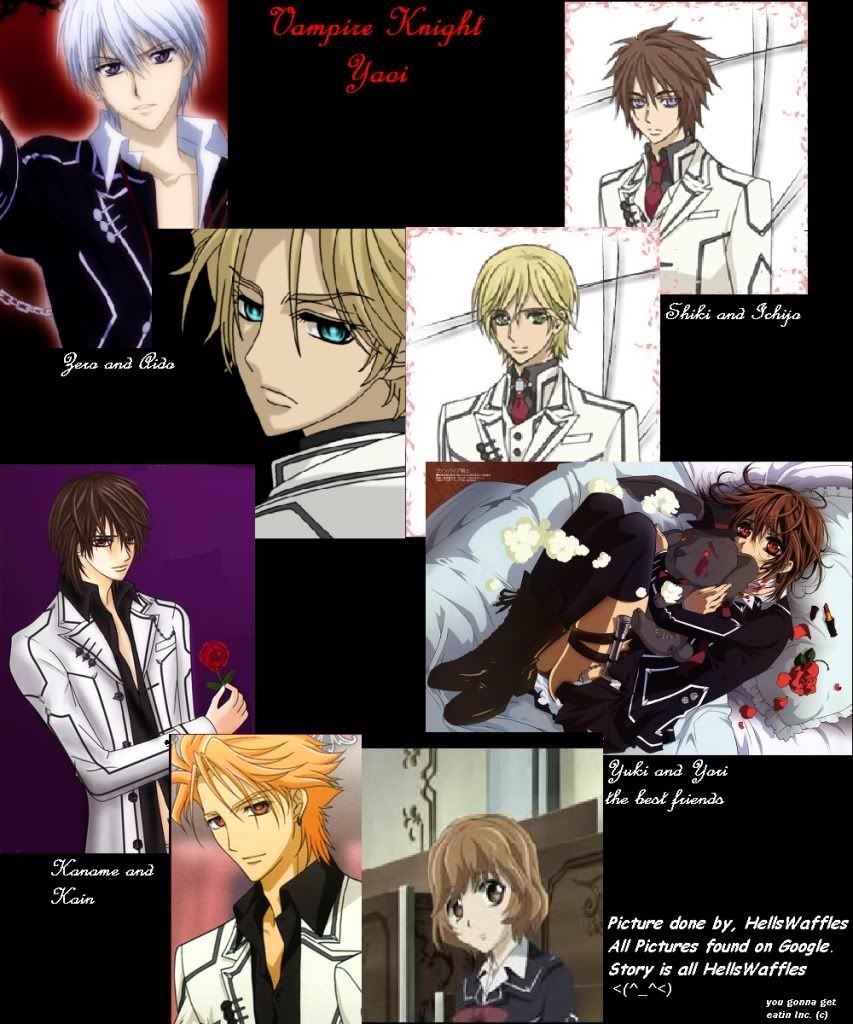 WARNING! YAOI! YAOI! WARNING!SPOILERS! SPOILERS! WARNING! you have been WARNED about the YAOI and SPOILERS...
Enjoy reading my first YAOI... to thoes whom do not know what YAOI means GUY ON GUY... guy on guy means GAY



Zero was helping Yuki study for the up cimming end of the year exams when his hands started shaking and he retreated to his room and loched the door as the cravings got harder, and harder to ignore. Zero found himself in the darkest corner of his room hoding his black box filled with blood tablets. Normaly for a Vampire, one or two tablets would be enough to satify the cravings. Zero on the other hand it took well over five tablets to numb the cravings.
Sitting on the floor the black box half empty, the shaking Zero had stoped and the craving numb. The sound of keys opening a door caused Zero to look up. Light entered his room and Zero grunted as he covered his eyes.
Yagari Toga entered his room "Zero... you have become unstabe I see... I'm sorry to say this but, I have to take you away"
Zero under stood that he only had few days left to live. Yagari would take him to the Head Quarters of the Vampire Hunters. He would be escorted to the holding room where he would be chined to the wall as he painfuly fell to a level E vampire, then the word would be sent out to terminate him. Even that order would take a few days to be sent out because Zero was the last of the Kyru family... well thats what they thought... still only little people knew that Ichiru was still alive.
Only 2 days after being locked up Zero was a level E and neary forgot every thing, the only thing on his mide was blood.
Head Master Cross came to viset him after 2 days. With a grave sadness in his voice he said "Zero... Its hard to belive that you have truly fallin... you were so strong, you fought the changing for so long... I was going to bring Yuki but she has become sick worrying for you..."
Zero looked up from the floor only to breafly meat the Head Masters eyes "Yu...ki" He said and his eyes quickly filled with tears.
The Head Master took a step back shocked "Zero? your... your still in there?"
A voice ecooed down the hall "It is impossible to completly kill the human traped in a Levle E's body" Kuran came into vew "Head Master Cross... I would like to have a few minutes with him alone. It wont take long... If you may, wait for me and we shail go back to the school together."
The Head Master nodded and said his far well to Zero and left he room.
Kuran walked closer to Zero "Hello Zero... inside me flows the blood of Shizuka Hio... that blood will save you. I will only let you take some because Yuki is very sick."Kuran knelt before Zero and reviled his neck.
Zero pressed himself agenst the wall as much as he could "n-no"
Kuran laughed "Even though your a level E you still refuse to drink blood? ...Yuki will only get better if she see's that your alright... and for you to be well again you have to take this blood... Zero, she may die"
"Fi...ne" Zero opened his mouth baring his fangs and bit Kuran.
Days later Zero was relised. No longer a levle E, but now a very powerful common Vampire. Yagair drove him to Cross Academy. As quickly as he could he got to Yuki's and Yori's Dorm.
He knocked on the door. To no suprise Yori answered the door.
Her face was filled with hope when she saw Zero, she embrased him and said "Zero Kyru I never I thought I would be this happy to see you... Yuki refuses to go to the hosptal because she was waiting for you to get back... the whole night class is pached in our dorm so its a little crouded." Yori Grabed Zeros hand and dragged him in the room.
Aido was the first to say anything "Look Yuki-kun Zero's here! ... so hurry up and get better"
Yuki turned her head to see Zero. A weak smile appered in her white face. "Zero... Your... okay"
Zero sat on the edge of her bed "Yuki... what did I tell you about worring about me? I'm fine... Yagari had to take me away...I had to explane to my village councle that Ichiru was still alive and liveing somewhere."
It took Yuki roughly two weeks to get on her feet again. Zero was to patrole the school alone untill Summer break. Yuki insisted that she would help but no matter what she said she was still only aloude to do her exames and rest.
Come summer time Head Master Cross wished to take his family to a summer home in...in... CANADA.
"Awww come on Zero! It will be so much fun!" Headmaster Cross exclamed trying to convince Zero to come with them "Please my son... pleaaase."
Zero twiched with anger "You may have raised me but you are NOT my father... and I will NOT go with you. I'll stay here... ALONE"
"But Zerooo" whined Yuki "please"
Zero started to walk to his room "Oh look at that... Im sleepy... Im going to BED"
Yuki grabbed Zero's sleave "You can cleep on the plain!"
Zero got Yuki off him "Im afrade of hights"
It was sealtled. Zero would stay and take any phone calls. only hours after every one left the phone rang.
"Hello this is Cross Academy head office, how may I help you" Zero said into the phone.
"Oh Zero! You sound soo CUTE saying that! Oh maybe if you chuse not to ba a Vampire slayer you can do this as a living!" very not suprizingly It was Head Master Cross.
"No" Zero said and hung up the phone.
only a mear week later Zero was walking around the abandoned halls of Cross Academy in his boxers.
The words "ARG I'm out of dang Manga!" eccoed through the campuis
Zero pulled on a pair of jeans and walked around the school grounds. Soon enough he ran into Aido.
"ZERO!" He said happly "um... so um... wanna go into town with me?" Aido asked
Zero shrugged "Nothing better to do."
They walked back together to Zeros dorm. Zero pulled ona black long sleaved shirt "Will the stores still be open when we get there?"
Aido shrugged "I don't know. "I always asked Headmaster Cross to get them for me when he went out."
As it turns out the Book store had just closed. Aido said that he would pay extra and they were let in. Aido ran strate to the Mangas and picked up a few... hundred. After wards they went to a restraunt and got dinner. Got some food at the market and got a cab back to the academy.
They watched movies all night in the Night Dorms and passed out on the couch.
Aido woke up laying on Zero's lap but was still too grogy to move. He roled over and to look at the celing to see Zero staring at him. Quickly Aido sat up blushing.
"Um... I was afrade tp wake you up" Zero said shyly.
Aido laughed a little "Why?"
Zero got up and streached " 'Cause I didn't know what you wrer going to do if I did wake you"
After a bowl of Lucky Charms they walked around the school.
"Hey um... Zero?" Aido asked
Zero looked over to him "What?"
"Well I was just wondering...um ... How did you keep your self from falling from a levle E and when you did... how did you get out?" Aido asked looking away.
Zweo shrugged "Well at first I guess it was because my hatred and wanting to kill Shizuka Hiou was so grate that's wat kept me a former human. Then well... Kuran had her blood so he gave it to me because he feared for Yuki... I rfused at first the he told me she might die."
"You must really like her to do that" Aido stated
"Ya... I think of her as my baby sister." Zero said remembering all the times she helped him and how he helped her study.
As they walked every so often their arms or hands would brush up agenst echother. They would always quicliky pull away blushing. Again they watched movies all night and passed out on the couch. And after ANOTHER aquard morning... Zero was laying on the couch and Aido was ontop with his face nuzzling Zeros neck... they walked around the school grounds again.
Soon it became clear that they were both atracted to eachother but they would not say it for they fraed that the other would not feel the same.
Zero got out of the shower and wraped a towl around his lower half and walked out of the bath room. Aido was spread out over the couch reading a manga. Zero walked in to a spare dorm and chanded into pair of white boxers with red hearts then walked down the living room and pushed Aido's feet off the couch.
Aido looked over and giggled "Niiiiice..."
Zero leaned over and hit Aido's head "Shut it"
Zero was flipping through the channels on the TV when the GAY PORN channel came up. Both Zero and Aido blushed. Finaly after what seamed like hours Zero said "Why... why do you even HAVE this?"
Aido shurgged "Don't know..."
Zero looked down before standing up "I'm going to take another shower" and he added silently "A cold shower... very cold"
Aido stood up "Me too"
Zero looked at him "You have more then one shower?"
Aido floped back on the couch "oh yea..." He turned on the TV and quickli changed the channel "Hey look Saw 14 is on... I'll watch that"
Later that night they were both... not really... watching a movie.
Aido look over and looked at Zero and mumbled silently "I... kinda like you"
Zero looked over at him "What was that?"
Aido blushed "Nothing..."
"Come on... Tell me" Zero said looking back at te TV
"I said" Aido cleared his throught "I kinda...like" He cleared his throught again then he whispered "...you..."
Zero blushed "Like...me... well I guess we are kinda friends now"
Aido said only a little fustrated "Not like that... I like LIKE you"
Zero blushed even harder "Oh... in thats case..."
Zero leaned over to Aido who kinda shrunk back in fear, he thought Zero was going to hit him but instead Zero kissed Aido very pashinetly. Aido bluched closed his eyes and shyly kissed back. The kiss got deeper and deeper. Zero was ontop of Aido, his arms suporting himself on the arm of the couch. Aido had one arm wrapped around Zero's neck and the other hand placed over Zero's racing heart. Zero broke the kiss and Aido sat up puching Zero to the back of the couch. He crossed his legs around Zero's waste and his arms around his neck and plased his head on Zero's chest. Zero started storking Aido's hair with one hand and had the other arm holding Aido closer to him.
Aido smiled "Your hearts raceing"
Zero placed his cheek on Aido's head "I know... so is yours."
Aido tilted his head slightly and jently kissed Zero "I know"
About an hour later Aido yawned. Zero picked him up bridle stile and took him to his dorm. Zero tucked Aido in.
Just as Zero was about to leave the room Aido said "No... don't leave me"
Zero walked back to the bed and hesitated befor getting in. Aido held out both arms as if asking for a hug. Zero got in the bed and slid into Aido's waiting arms. Aido wraped his legs around Zero's waiste and said "got you... your mine now" and he cuddled into Zero's bare chest.
In the morning Aido wokeup once again with Zero looking at him. Zero kissed his forhead and said "Morning"
Aido nuzzled Zero's neck "Morning..."
They stayed like that a few moments when Aido anounced he was thursty.
Zero lossened his grip on Aido "Then go to the kitcken and get a drink."
Aido groned "I'm to lazy to move" he then looked at Zero in the eyes "And the kitchen dosent have what I want."
Zero looked at him "oh..."
Aido looked away from Zero's eyes "Would it be okay if... um..." after a few moments of sclince Aido said "Okay... I'll go get some water and a few tablets.
Just as Aido was about to leave Zero's arms Zero tightened his grip "No... its okay" and with that Zero shifted his head and moved his hair out of the way.
Aido kissed Zero's exposed neck and hesitating before jently biteing it. Zero flinched a little remembering the night Shizuka took his blood and killed his family. Aido knew this is why he flinched so he took a hand and stroked Zeros cheek. Then his chest. Jently Zero pulled Aido away and kissed him then let him go back to his drinking. Aido poshined himself ontop of Zero before drinking again. From this angle Zero could move more freely. He kissed Aido's neck and Aido moned slightly. Aido was still stroking Zero but with each stroke he got lower and lower, he finaly reached the edge of Zero's boxers and left his hand there, Zero kissed his neck again and Aido slowly inched his hand in Zero's boxers. Zero grabbed Aido's ass and kissed his neck once more before biteing it. Both Zero and Aido lay there groping eachother and drinking eachothers blood. A few moments later they both stoped drinking. Zero placed Aido under him and kissed him from the mouth down. Zero pulled himself up and placed his full body on Aido so they were touching... every where.
As the day went on they cuddled, flirted and kissed knowing that their time anlone would be over in a few weeks.
The day came when Head Master Cross called "Zeroo! were home! Yuki and I are just grabbing a taxi and we will be ther e shortly."
Zero hung up the phone and joind Aido in Zero's room.
Aido tacled Zero to the bed and asked "Who was that?"
Zero sighed and said "Head Master Cross and Yuki will be here soon"
Aido groned and kissed Zero deaply. For the very last time in a long time they were alone. They both freared how evey one would react when they told them... if they told them.