~~Background~~
You had just moved to Bon Temps, Louisiana, from your hometown in New York. You had to get away, it seemed to you that every vampire could pin-point your location just by the scent of your blood, which was apparently, according to them, orgasmic/intoxicating. It got annoying so you moved away.
~Mercy's p.o.v.~
You had been working at Merlotte's Bar for at least a week when you moved here, you drove a very nice car, a Mclaren. And you had a very nice house, it was big, not too big to give away your status. (You're rich, you just don't like people knowing it.) You love working as a bartender/waitress and you have since you were 14, though you lied about your age to get the jobs. You've been on your own since you were 6 years old and you don't get close to anyone. The bar was crowded as you rushed around, taking everyone's orders and faking a smile and forcing their thoughts out of your heads. Yeah you guessed it. You were sort of like Sookie Stackhouse, another girl that worked at Merlotte's, her brother continuously flirted with you but you ignored him. To you she was too sweet but you could tell she could read people's minds because sometimes she blurted stuff out, when no one said anything out loud. You could feel her trying to read your mind sometimes but it annoyed you and you kept your guard up, though she wouldn't be able to read your mind anyway, even if your guard was down. You asked Sam, the owner of the bar, if you could start working earlier and leave when it closed, he was hesitant at first but you were persistent, saying you didn't like staying home alone. He gave in, so you've been here since it opened and it was only 5:00. You had a weird feeling in the pit of your stomach that something was coming but you shoved the thoughts deeper into your stomach, ignoring them and then faking a smile as you took orders. As soon as you turned around though, the smile was gone. Nothing left but an emotionless face, and dull, bright crystal blue eyes. You gave Lafayette the order and started cleaning off a table and a couple of hours later, around 10:00 your section was empty until two men came into the bar and sat at your section. You pulled the order book out of your apron and made your way towards them. "What can i get for you today? I mean, what type of TruBlood?" The dark haired man looked at you and ordered an AB TruBlood and you turned to the blonde haired vampire, revealed as Eric (You looked into his head, the other one was Bill.) You felt him trying to glamour you and you leaned in closely so only he could hear you. "Listen here, Eric, if you EVER try to glamour me again, you will wish you were actually dead." You turned away and got their bloods and warmed them up in the microwave and when it was done you set it on their table and left, getting other people's orders and giving them to Lafayette. You could hear Eric whispering about you to Bill, and you glanced over, glaring at him and then turned to Sam. "I'm going to leave early, i'm feeling pretty tired." 'Okay, are they giving you a hard time? Because i can send them away.' "No Sam, it's fine, they're not bothering me. Tell Sookie, Bill wishes to talk to her please." 'Right...see you tomorrow.' "Yeah." You took off your apron, revealing your white low cut tank top with the bar's logo on it and your black jeans shorts. You fixed your skull flats and left the bar, making your way to the car when you nearly ran into someone. You spun around quickly, landing next to your car to see Eric, the vampire from the bar, Bill, and Sookie. "Can i help you?" You didn't even try to smile as you unlocked your car. 'Sookie is it working?' 'No...i can't it's...it's all black...but there's pain...and anger...and confusion.' You turned around quickly. "Sookie, stay OUT of my head, my past is none of your business, ANY of your business! Not even you vampires, i don't care that you're older and have authority, i do NOT take orders from anyone." You got into your car, leaving them stunned as you slammed the door and sped out of the parking lot.
~Eric's p.o.v.~
You watched as the girl drove away quickly. "Such reckless driving will kill her." 'Eric! Don't say stuff like that!' "And that temper of hers, it's a wonder no vampire has killed her..." 'That's enough Eric!' You shrugged. "It's my opinion. Maybe it'll be a fact." Sookie glared at you and then turned towards where the girl sped off. 'She won't be back until morning and she'll probably leave before night...' "Do you know where she lives Sookie?" 'Well, Jason said something about a new house being built further out and a new girl that he liked lived there, he also said it was really big compared to mine and his.' "Bill?" 'Sookie and i will drive, you can go ahead.' You sped off in the direction where you saw the car drive off and looked for a large house, stopping quickly when you saw a white house with an in-ground pool in what looked like the back and the girl closing the car door, walking to her front door as she found the right key. You appeared behind her, just about to put your hand on her shoulder until she turned around and punched you in the stomach. And DAMN did she have a hard punch. You hit a tree that was in the backyard and groaned. You were definitely not expecting that. 'What the hell are you doing here?!' She seemed shocked that it was you or something. You got up quickly and appeared behind her, pulling her to your chest, her arms at her side so she didn't punch you in the face or anything. As soon as you grabbed her you could feel her body tense up, and fear coursing throughout her body as her heart pounded in her chest quickly, making you think it might explode. Bill parked Sookie's car immediately and ran up in front of the girl, Sookie right behind him. 'Who are you?' Bill's fangs were out and you felt the girl stiffen. There was no doubt she'd been around vampires before, but more than two. 'Bill, Eric! Stop it right now! You're terrifying her!' Sookie shoved Bill out of the way and made her way to you. You let go and the girl did what you were afraid she'd do. She punched you in the face and you flew across the porch, seeing blood drip onto it as your nose bled. The moment she distracted everyone she was in the house, slamming the door and locking it. 'Why are you here?!' You wiped away the blood, slightly excited and aroused. She was different from any human or vampire. She interested you. 'Mercy, sweetie i didn't know they'd scare you like that, but we need your help...the Fellowship of the Sun has my brother and Eric's maker, Godric, we need your help...we need to go to Dallas. Can you help us?' "You don't honestly think that she'll go with us willingly do you? I'll go as far as taking her against her will to save Godric."
~Mercy's p.o.v.~
You listened to their words carefully, knowing they were telling the truth. Maybe these vampires weren't so different. They actually cared, and he wanted to save his maker. You took a deep breath. You wanted to help both vampires and humans get along but you didn't believe it was possible. You slowly unlocked the door quietly, and opened it to see them leaving. "Wait...i'll help you...just...please...don't touch me alright?" Sookie beamed at you and hugged you, catching you off guard. 'Thank you so much! I don't know how i'll ever repay you!' You shook your head and turned to go inside. "The two of you obviously care for your family." 'He's not my family.' "He is your maker, you are his son in a way, and you'd do anything to save him even if it meant sacrificing my life, don't deny it. You may come in if you'd like, i have drinks in the fridge...and i think i have true blood, i wasn't...expecting vampire company but...they seem to be drawn to me." You stepped to the side so they could come in, Sookie, then Bill, and finally Eric. 'Oh my gosh. This is amazing, i don't see why you even work at Merlotte's.' You looked away from them. "Just to keep busy...i just...have to get away from it all somehow..." You could feel Eric staring at you because you whispered the last part. "When are we leaving?" 'Actually it's tomorrow...i still need to pack and all, so i have to go.' "Oh...well i'll start packing..." You looked at Eric who was debating on what to do. "I-I...have an extra room that doesn't have windows in it...you...can stay in it if you like...just two rules..." 'What are they?' "Don't touch me...and...don't come near me...please." He looked shocked by your rules but you kept your gaze away from him. 'Thank you for your hospitality. Sookie, Bill meet us here tomorrow night.' You listened as they said their goodbyes and closed the door, locking it. You tried to relax but it was hard. You were afraid of men and you said one could stay, and a vampire at that. You made your way up the stairs slowly, showing Eric where his room would be. You stopped at the door and he was next to you in an instant. 'This is it?' You didn't say anything but opened the door and walked away, making your way to your room. You locked your door and made your way to the walk in closet, pulling out your gray sweatpants and a light blue tank top and walked to your bathroom and took a quick shower, then changed into your clothes and crawled into your fluffy king sized bed, covering up. You yawned and closed your eyes, sleep taking over.
~~Next Morning~~
~Mercy's p.o.v.~
You woke up slamming the alarm clock into the wall, it scared the shit out of you because of your dream. You sat up, holding your necklace, tears burning the back of your eyelids. You got out of the bed slowly, taking deep breaths. Ever since that night that's all you dreamt about. That's why you started working, morning to night. Hoping to keep the dreams away but as soon as you get home and lay down, it always comes back, just the same dream over and over again. Thank god all of the rooms were soundproof, or you would've waken up the vampire. You turned on the air conditioner and grabbed some clothes. The cell phone rang and you answered it. "Hello?" 'Mercy? I tried calling the house but no one was there. Where are you, are you on your way to work?' "Oh...i didn't hear the phone ring...i'm sorry i was asleep...i'm at home, getting ready to go to work." 'I forgot yesterday that you have 2 weeks off.' "Oh...i see...i...are you sure you won't need any help?" 'Yeah, you've been working hard and you've brought in a lot of customers, Tara can cover your shift for a while, she needs the job right now.' "Am i fired?" 'What? No, no, you need a break and Tara needs the money right now, you're not fired, sorry for the confusion.' "It's okay...i'm just not used to working that's all..." 'Alright, well i got to go, it's starting to get busy.' "Okay...thanks for the warning." You hung up and tossed your iphone on the bed and sat down. It was cooling off in your room and you grabbed the alarm clock and put it back on your nightstand and sighed. *Why does it always come back?* You walked into the closet, putting the clothes back and grabbing several pairs of skinny jeans, tight jeans, 2 sweatpants, several tank tops, a pair of combat boots, panties, bras and 2 pairs of flats. You found a small travel bag/sports bag that had enough room for your clothes and folded them and put them in it. You grabbed your laptop off from the nightstand and your charger, ipod, your phone's charger, an extra set of headphones, and the ipod charger. You put the bag on your bed and went into the bathroom and took a long hot shower and then got out, dried off, dried your hair, changed, brushed your hair and put it up in a bun as you walked back into your room. The clock said 7:45 so you still had a little bit of time. You grabbed your bag, slipping it over your shoulder and pulled on your combat boots, adjusting the jeans legs so it went over the boots and put your iphone in the front pocket of your jeans. You grabbed a black jacket and a black hat and walked down the stairs and put your stuff on the couch. You went into the kitchen and grabbed a glass and poured some water and put ice in it and took a drink and then set it down on the bar and walked into the living room and pulled on your jacket and zipped it up so it hid the bandages that showed from under your midnight blue tank top. You stood in the kitchen, listening to the radio, some of your favorite songs on while you took a drink of water. You felt something coming towards you fast and you put the glass down and caught Eric's fist from behind, without looking. "You didn't listen to my rules..." You shoved him back and moved behind him so quickly, he didn't know where you were until you held a silver knife against his throat, nearly touching it. "Next time, i won't be so nice, i don't care how old you are, the older you are the faster you die." 'How old do you think i am?' You moved so you were in front of him and you stared into his eyes, sort of reading his mind, without letting him know it. "1000 at the most, your accent...Scandinavian right? You may have been a Viking..." You let go of him and hid the knife making it look like you set it in a drawer when really you slid it in your combat boot. 'How do you have such knowledge about something that happened before you were born?' You shrugged, keeping your gaze off from him. "I read a lot...especially history books...i know all of the old accents that would be hard for any human to figure out...i've always been good with that i suppose...but..." You held your arm, starting to feel uncomfortable. "How long are we staying in Dallas?" 'Couple of weeks...why?' You shook your head. "I have to get back to work..." 'Tch. Why do you humans feel you should work all the time, you're lives are so short and i'm sure you can find something better to do in this house.' You whirled around, scowling at him. "I don't really give a fuck that my life is so SHORT, the less i have to live the easier it is for me! I can't stand being left alone to my thoughts so i have to keep busy. If you don't like it get over it, we are not friends, we aren't even acquaintances. As soon as i help you find your maker, i'm coming back here, we won't see each other, we will not speak to each other, and i sure as hell won't EVER come near you again." You left him in the kitchen and made your way into the living room, picking up your bag and pulling it over your shoulder, and grabbing your keys, shoving them into your jacket pocket as you opened the door right before Bill knocked. You walked out onto the porch, standing next to Sookie, waiting for Eric to finally come out. When he did you closed the door and locked it quickly and made your way to your car. 'Hey, guys do you mind if i ride with Mercy, just us girls?' 'With all due respect Sookie, she wouldn't be able to keep up, i'll go with her.' "Like hell you will, i'm driving my own damn car. Alone." You got into the car and slammed the door, starting it up and waiting for them to get in Bill's car. You followed them out of your driveway and stayed behind them the entire way, and didn't slow down once, not even on the curves, you just drifted around them. You parked a couple of spaces away from Bill and paid to have your car transported by air, and got a ticket with the others. Eric said something about them sleeping in coffins and suggested that you had one but you just flicked him off and bought two first class tickets for you and Sookie. She kept saying that she'd pay you back but you told her no. You got comfortable, your bag above your head in the holder, it was just you, Sookie, Bill and Eric, well until both of the vampires had to retreat to the coffins before daybreak. You sat in the back, far away from the three and you stared out of the window, listening to your ipod. You knew they were talking about you most of the time but you ignored it and closed your eyes as you crossed your arms for more heat, falling asleep.
~Eric's p.o.v.~
You watched as Mercy closed her eyes, listening to her ipod and you listened to her breathing slow as she fell asleep. Four hours before daybreak she jumped up quickly, grabbing the necklace around her neck and looked to see where she was. Fear was written all over her face until a look of remembrance came over her face and she relaxed slightly. You moved over next to her and she tensed up and took the headphones out of her ears and wrapped it around her ipod and then put it in her jacket pocket. 'What?' "You looked scared. Are you okay?" She scoffed and returned her gaze out of the window. 'Stop acting like you care.' "I'm not acting...i'm thankful for your help...i truly am." She didn't say anything but she closed her eyes. You held her shoulder and her eyes snatched open immediately and you felt her tense up. You let go of her and looked away. "I'm not going to hurt you." You got up and made your way to the coffins with Bill.
~Mercy's p.o.v.~
After the vampires left, you laid down again and pulled a cover over you and fell asleep again.
~~Next Night~~
You woke up as the plane landed and you folded the cover and put it away and grabbed your bag and got off the plane with Sookie while the two guys hauled the coffins off the plane. They opened and Bill and Eric got out and Sookie ran over to Bill and hugged him. *Man...she's clingy.* You shifted the bag over your shoulder so it was comfortable and you got in your Mclaren and followed the others to a hotel, Carmilla which was for vampires specifically. You tried to get your own room but Eric wouldn't allow it, so Sookie had to share a room with you just in case you tried to escape but she stayed with Bill until it was time for them to sleep. You were informed later that you, Sookie, and a guy named Hugo would act as converts to get into the Fellowship of the Sun.
~~Next Night~~
~Mercy's p.o.v.~
You woke up and changed into some tight black jeans, a blood red tank top and your black jacket, brushed your hair and put it up in a bun and pulled on your black hat. (By the way it looks like this.)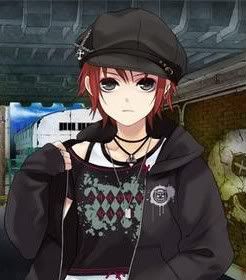 You met Eric, Bill and Sookie down at the waiting room by the front door and you got into your car, Sookie and Bill in the back seat and Eric in the passenger side. You made your way to the Fellowship of the Sun. You stopped 5 miles from the church so Eric and Bill could get out. They told you what would happen and if anything bad happened, they would be there. Sookie got into the front seat and you drove off, going at 300 mph. (Did you know they actually made a car that can go over 700 mph? It's freaking awesome!) You felt Sookie finally relax after awhile and she started to talk. 'How old are you? I mean i didn't hear your parents at all, and you're like rich.' "I'm 18 and i live on my own...i have for a long time." 'Really? Where are you parents?' You sped up, uncomfortable with the question. She didn't say anything until you parked and locked the doors after Sookie got out. You put your keys in your jeans pocket so no one could see them and you put your cell phone in your back pocket. You walked along with Sookie and listened as she told Sarah that both of you wanted to be a part of the Fellowship. She took you to and Sookie to meet her husband, Steve and they accepted and were showing you around the church. You felt something in the pit of your stomach. They knew about yours, Sookie's and Hugo's mission! "Sookie, i think we should go back...it's not safe..." Before she could object Steve grabbed your arm roughly and two other guys grabbed Sookie and Hugo and dragged you down into the basement. Steve slammed you against the wall and held your throat, tightening it while Sookie screamed for him to let you go. Your fear increased and you couldn't do anything. You felt weak and helpless like the same night of the incident with your family. Steve tightened his grip until you blacked out for a split second and then he was gone. You collapsed on the ground, unable to move. Steve and a man named Gabe were kept talking to Sookie, and then Hugo says her last name. Steve said something to Gabe and he left, Steve still talking to Sookie. He glanced over at you as you slowly got up and stayed kneeling on the floor. 'She's not even your sister is she?' 'No she's not so leave her out of this!' He slapped Sookie and ran over to you, grabbing you by the throat and throwing you against the hard basement wall. He advanced towards you as you tried to get up, using the wall for support and wiping the blood from the side of your mouth. Your head hurt and your previous wounds were starting to sting, like they were on fire. He threw a punch but you grabbed his fist and kicked him in the stomach, your combat boots colliding with his ribs. He got even more mad and he lunged at you, Sookie trying to hold him back but he punched you in the stomach, and slammed you into the wall and continued to hit you. He stopped and kicked Sookie off from him and went to punch her but you found a small red brick and threw it at his head. "Don't...touch her...she has family!" He found a knife and advanced towards you slowly as Sookie started crying as she tried to pull him away from you. Sookie had said it was Hugo that told them about the mission. Everything started to go black after you felt something sharp in your shoulder. Your other wounds had reopened. You saw a blur of movement and Steve was sent flying away from you. "Why...would you even let them sacrifice you? Nothing...would've changed..." You couldn't see the man's figure clearly, but his voice seemed familiar. You didn't realize that Hugo was beaten up, and Sookie nearly raped until you tried to move, causing more pain. "Sookie...are you..." You couldn't finish your sentence because more pain coursed throughout your body. You thought you heard Eric's voice but you weren't sure and you started to close your eyes when you felt someone pick you up. You tensed up and squirmed in the man's grasp but you eventually gave up, losing consciousness.
~Godric's p.o.v.~
You held the girl in your arms, the smell of her blood was overpowering and familiar to you. You looked at Sookie and Eric. "Who is she?" 'That's Mercy...she came to help get you out...and my brother...' "We should go...it'll be daylight soon." 'Her car is out in the parking lot...it's the Mclaren i think it's called...her keys are in her back pocket...' You left with the others quickly, getting the girl's keys and getting in her car and driving off, Eric and Bill right behind you. You kept the girl in your arms as you drove to the hotel and you parked and got out of the car with the girl in your arms. You followed the others up to the room and Sookie said she was going to share a room with Bill because she couldn't face her. You opened the door to her room and set her down on the bed, unzipping her jacket to see her bandaged wounds and the ones that Steve had inflicted on her. You bit your wrist and held your arm over her stomach and chest after you un-bandaged her and then healed the rest of her wounds as your wrist healed. You couldn't place where this girl looked familiar. Her name was familiar too but you were sure it wasn't the same girl you were thinking of. Besides, the girl you were thinking of has been dead since she was 6 years old, along with her family. You sighed and got the clothes from one of the workers and you took a shower and then changed, leaving your shirt off until night. You looked at the bed and decided to just sleep figuring she wouldn't wake up for a while. You crawled in next to her, and covered up as you fell asleep.
~~Next Night~~
~Mercy's p.o.v.~
You felt something soft and slightly cold against you and your eyes fluttered open to see a muscular chest with many tattoos. Your eyes widened and your body tensed as you screamed and jumped out of the bed, the man falling onto the floor, hitting his head. You backed up against the wall, hiding in the shadows of the room. He groaned and stood up looking in your direction. 'It's nice to see you're okay.' You started to relax until he appeared in front of you that's when you tensed up again. His hand rested on your right cheek and you closed your eyes, expecting to be hit. 'What is your name...and when were you born?' "M-My name..." You felt him smile but you kept your eyes closed. "My name is Mercy...i was born on june 6...in 1992...why?" He was quiet for a while and you slowly opened your eyes to see him lost in thought. There was a knock on the door and the man moved so quickly to open the door and you realized he was a vampire. You looked for your keys and your bag and just before you picked up your bag the man pulled you out the door, and you saw Eric smirking in your direction. You snatched your arm away from the man and glared at Eric. There was some kind of party at the other vampire's house and Eric told him that you'd try to escape so you had to come along. The man, had your car keys and drove to his house. He spoke to you but you didn't really respond or listen for that matter. You still felt sleepy but you didn't show it on your features. He pulled into a long paved driveway with a mansion that was known as the nest. (Where several vampires stay.) You got out of the car and grabbed your bag, slinging it over your shoulder. 'Welcome to my home...Eric has made arrangements for you to stay here for a while since Rev. Steve is after you.' You tensed and stopped walking. "I don't need anyone's help...i've been taking care of my self for a while." 'You just turned 18.' "So, i've been on my own long before that." 'Since when? 16 years old?' "No...since i was 6..." You looked away from him and you heard footsteps behind you. 'What do you mean?' In a way he sounded hopeful and happy which confused you. "May i use your shower...i feel grimy." He sighed and lead you and the others into the house and just you followed him up the stairs. He stopped in front of a big wooden door. 'This used to be my fiancé's room.' "Oh...i don't need to-" 'It's fine...you remind me of her.' He opened the door and you followed him in uncomfortably. You saw picture frames of a small girl with long brown hair that looked like you, but her eyes were a bright crystal blue, full of happiness. You stood in front of one picture that caught your eye. It was of the little girl and the vampire in the room. You snapped out of it and set your bag on a chair and pulled out some clean clothes and then walked into the bathroom and started the shower.
~Godric's p.o.v.~
You watched as she looked at the pictures and you realized she looked EXACTLY like your fiancé. After she went into the bathroom and started the shower you walked over to her bag and pulled out a laptop and turned it on, thankfully it didn't have a password. You looked at the pictures and saw the same little girl, your fiancé. You continued to look through the pictures until you saw what was name: "My family". You opened it and saw it WAS your fiancé and her parents. Wait then why didn't she seem to remember you? Her parents were almost as old as you, and they were older than Eric. A miracle happened and they had their oldest daughter, and 2 years after her, they had another girl. You closed the laptop after you turned it off and you placed it back in her bag where it was before and you walked over to the balcony doors and looked out at the moon. Their first born was born a vampire, as was the second born, but she was able to eat human food and go out into daylight without being harmed. Her little sister however wasn't as lucky, she wasn't able to eat human food, she couldn't go out in the day, so she had to feed off from blood. This girl, ironically had the same name as your fiancé, and had same pictures of your fiancé's family, but did she have the same last name? Was it really her? For a moment, you felt happiness swell up inside you. That was until you heard screaming and then an explosion. You ran downstairs to see three vampires dead, some injured, and blood everywhere. Nan Flanagan showed up and blamed you for their deaths after everything was cleaned up and you said you would make amends. Eric looked upset as you left the room and went to the hotel where Nan Flanagan was waiting.
~Mercy's p.o.v.~
When you got out of the shower and got dressed you saw a picture frame on the wall with your parents in it, and the same little girl and the man. Then it hit you. The missing link. It felt like a haze was lifted off from you and your heart fluttered. Godric. His name was Godric, your parent's friend. You ran out of the room after you heard the explosion but you hid behind the wall as they cleaned up and you overheard Godric on the phone and he sounded so depressed. He said he would make amends and when he said that he looked at Eric who looked upset. He was going to die! You followed him out to his car and got in without him knowing it and soon you heard Sookie and Bill. After Godric got out of the car you saw his figure at the top of Hotel Carmilla's roof and you ran as fast as you could, making your way up to the roof. You hid behind the door and listened to Eric speak to Godric in Swedish saying that he didn't need to do this but Godric released him and ordered him to leave. He opened the door, bloody tears running down his cheeks, he didn't even look mad that you were listening to his conversation. "Eric...i'm sorry...i promised you i'd help save your maker...and i'm going to keep my promise." He looked like he was about to say something but you left before he could and left the door open slightly. You saw Godric with his shirt off and his arms spread out, looking at peace but there was still a look of regret. "Godric." He didn't turn around as the sun started to rise and your heart ached. You couldn't take it. You tackled him into the hotel again, kicking the door closed, tears threatening to escape. 'What are you doing?!' You could hear the anger in his voice but you ignored it. 'I'm a monster! Why are you stopping me!' "The same reason you stopped me!" You got into a kneeling position and looked down at your hands, feeling uncomfortable. "Godric...i...i know who you are...i think...i mean somewhat." You felt him start to relax as he leaned against the wall, one leg up and the other laying flat on the ground. 'I thought everyone was dead...i thought you were dead...do you know how upset i was? How angry i was? Why didn't you tell me that you were Princess Kira?' "Because i didn't know! I couldn't remember my family's names! Do you know how bad i felt to watch as my family was murdered right in front of me and not even remember their names when i woke up?! I was all alone Godric! I had no where to go! It was all my fault they're dead..." You felt him next to you, his hand on your shoulder. 'I looked everywhere for you and when i couldn't find you i finally settled down here in Dallas...' You tried to relax but it was hard. Even though you basically grew up with Godric, your fear of men was overpowering. He felt you tense up but he didn't move his hand, he just turned your face towards him, his left hand cupping your right cheeks. 'I have to see something okay? I'm not going to hurt you?' He moved his thumb over the small spot on your cheek that had foundation on it but your hand held his in fear. "Please don't-" 'Mercy...i've been around your parents for many years. That means i've been around you and i've seen your birthmarks...' You felt your face start to heat up but thankfully it was pitch black. He finally pulled his hand away and leaned in closely to see your wolf birthmark and he whispered with a hint of something in his voice that you didn't quite understand. 'It's really you...' He leaned in closer and you shoved him away from you and jumped up, tears finally running down your cheeks. "What do you think you were doing?!" 'What? I was-' "Why were you just going to kill yourself like that?! Were you really going to let that vampire bitch just blame you for the deaths of three vampires that the Fellowship of the Sun caused?! How could you? Eric needs you still! Do you know how upset he was?! You hurt him Godric! And you hurt me!" You couldn't stop those stupid tears that continued to roll down your cheeks and hit the floor. "I need you Godric...i've been alone for so long that..." You shook your head and tried to wipe some of your tears away. "I can't stay here Godric...i have work and...i just..." You couldn't look at him without feeling your heart break in two. He couldn't love you. You couldn't love him. How could you with your fear of men? Plus he deserved better. Well that's what you thought. You turned and walked down the stairs quickly, knowing he wouldn't go out again and you saw Nan Flanagan, smiling as she drank some TruBlood. "You fucking bitch!" You saw a bunch of male vampires stand up around Nan but you ignored them and advanced towards her. "How dare you INSULT Godric like he's some kind of dog! You of all people know better. It wasn't Godric's fault, it was MY fault, the Fellowship was after ME! So if you want to talk shit about someone. Take it up with ME!" You watched as she smirked and your anger boiled. 'Who might you be? Human?' Her fangs showed but you ignored it. "Mercy Kira, the one who will kick your ass." She laughed and then lunged at you using her speed but you used your years of training against her and punched her in the face, slamming her into the bar. You saw Eric right behind you, trying to hold you back but that didn't stop you from kicking her in the face again. "If you ever mess with his reputation again i'll fucking kill you!" 'Is that a threat?' You smirked. "That's a promise, and i ALWAYS keep my promises." It took Eric, Sookie, Bill, and Jason to drag you upstairs to keep you from killing Nan Flanagan. Eric finally threw you over his shoulder and walked into the room and tossed you on the bed, slamming the door. 'What the hell were you thinking?! Using a Royal's last name like that? You're a human!' "Royal? Eric, Kira is my last name! I can prove it, it's on my birth certificate!" He was quiet a moment before looking at your tear stained face. 'Godric's not...he's dead?' You shook your head. "No...i stopped him...and like i said, we don't have to even be around each other any more. Everything can go back to the way it was before." 'Good, than you're staying at Godric's for awhile, get to know each other again.' You rolled your eyes and stood up. "Like hell i am." He smiled. 'That's exactly what'll be if you try to run, Sookie will keep an eye on you.' You watched as he left and you glowered and stomped over to the windows and pulled down the metal blinds over the balcony and windows. *What an asshole!* You sat on your bed and laid down, sleep taking over you.
(Oh yea, did i mention you're very short tempered sometimes, and can be emotional?)
Here's Mercy.


Here's Godric!!!!!!