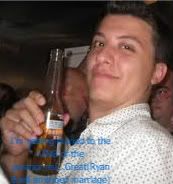 He took me to 'Kay's' to find a ring.
"Ryan this one it's perfect" I said while looking into his eyes
"that one will do miss"
"yes sir" he looked back at me
"I love you Aliyah"
"I love you too" I said while hugging him and he kissed the top of my head
"here you go sir"
"thanks you" he grabbed my hand and took me to the car.
"so when do I get my ring"
"you'll see" he said and I shook my head
"jezz Ryan thanks" I said jokily I looked outside
"its going to rain soon"
"yea I kind of figured it would the sky looks pretty bad" he looked at me while at a stop light then leaned over and kissed me
"Ryan"
"yea"
"the lights green"
"shit" he said and hit the gas. I laughed at what he did. When we got home we saw Heather's car in the drive way
"Xander's home" he said while freaking out and stopped the car and ran out to see his dog. I laughed and got out when I walked over him and Xander were playing around then it stopped when I walked up and Xander cocked his head at me.
"hey buddy I'm Aliyah" I said while bending down and shacking the top of his head and he barked
"he likes you"
"I figured he did" I said while Xander started to lick my face.
"come on buddy….thanks Tad."
"no problem Ryan and I'll see you tomorrow Ali"
"see yea Tad" he walked inside with Xander and Heathers car pulled out of the drive way I turned towards the door then looked up
"maybe you where right Ty" I said while I started to walk
"aren't I always" I turned around to find my two best friend Tyler and Jen

"oh my god guys" I ran into their arms and started to cry
"its do good to see you two"
"same here Aliyah" they said at the same time
"come on in guys" I grabbed their hands and took them inside
"Ryan….Ryan"
"in here Ali" so I took them to the kitchen
" I want you to meet my two best friends Tyler and Jen" he smiled and shook their hands "nice to meet you guys" he said and when he was done I heard the rain hit the roof
"yes its raining" I smiled like a five yr old
"I still don't get why you like the rain so much and I've known you since we where 13" Tyler as he looked at Jen for a answer and she shrugged her shoulders and looked at me "its nice to listen too and the smell afterwards in amazing" all three laughed at me but I didn't care I wanted to go play out in the rain so I did. I ran for the door
"Aliyah" Ryan Screamed
"let her go man she always does this even back at home" Jen said as I hit the sliding glass door. I ran out outside jumping around and just having fun when I thought of a song.I like the way you sound in the morning
We're on the phone and without a warning
I realize your laugh is the best sound
I have ever heard
I like the way I can't keep my focus
I watch you talk, you didn't notice
I hear the words but all I can think is
We should be together
Every time you smile, I smile

And every time you shine, I'll shine for you
Whoa oh, I'm feeling you baby
Don't be afraid to
Jump then fall
Jump then fall into me
Be there, never gonna leave you
Say that you wanna be with me too
So I'm a stay through it all
So jump then fall
I like the way your hair falls in your face
You got the keys to me
I love each freckle on your face, oh
I've never been so wrapped up, honey
I like the way you're everything I ever wanted
I had time to think it oh, over
And all I can say is come closer
Take a deep breath then jump then fall into me
Cause Every time you smile, I smile
And every time you shine, I'll shine for you
Whoa oh, I'm feeling you baby
Don't be afraid to
Jump then fall
Jump then fall into me
Be there, never gonna leave you
Say that you wanna be with me too
So I'm a stay through it all
So jump then fall
The bottom's gonna drop out from under our feet
I'll catch you, I'll catch you
And people say things that bring you to your knees
I'll catch you

The time is gonna come when you're so mad you could cry
But I'll hold you through the night until you smile
Whoa oh, I'm feeling you baby
Don't be afraid, please
Jump then fall
Jump then fall into me
Be there, never gonna leave you
Say that you wanna be with me too
So I'm a stay through it all
So jump then fall
Jump then fall baby
Jump then fall into me, into me
Every time you smile, I smile
And every time you shine, I shine
And every time you're here
Baby I'll show you, I'll show you
You can Jump then fall, jump then fall
Jump then fall into me, into me, yeah.
I stopped when I heard someone clear their throat I turned around to find Ryan down on one knee with the ring in his hand
"will you?"
"yes Ryan" I said as the smile on my face grew bigger. He placed the ring on my finger ten picked me up and spun me around. Then he put me down and kissed me in the rain
"I love this…us…you" I said
"me too" he replied as he picked me up and took me inside I had a dreamy look on my face
"dear god she in heaven"
"no Ty more like 7th heaven" (get it)
"bite me bitches" Tyler snapped his teeth at me. I shook my head
"so what happening tomorrow?"
"well me, Ali, Katrina, and Heather are going dress shopping and start planning the wedding" Jen said
"which means you will be spending time with the guys" he smiled
"football" both of them said
"yea you guys will get along just fine" we all laughed then I leaned into Ryan
"I'm beat"
"I think we all our baby" Ryan said

"well we'll be back here at 11 tomorrow ok"
"hhmm" was all I said then they left
"well I'm going to bed"
"ok" he said and I started to walk to the bedroom when he grabbed my hand
"goodnight baby" he said and kissed me
"night Ryan" I said as I went to the bedroom and changed then went to bed with Xander at my feet.
(the song was by Taylor swift it fit the time so I put it in)